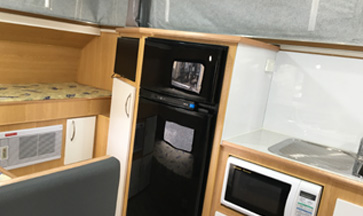 Caravan Repairs and Conversions, Air Conditioner and Microwave Oven Installation
Does your caravan need a new rollout awning, brake & bearing service, air conditioner, microwave, or it needs several damage repairs? At Caravan Crash & Service, we can do it all – from repairs and conversions to air conditioner
and microwave oven installation.
Our experienced staff is equipped with the right tools and equipment to service your caravanning needs and repairs in a hassle-free manner so that you can relax and enjoy your ride.
Highly Effective Repairs
No repair job is too small or too big for us. Whether it is replacing window seals or replacing entire panels, we are committed to completing caravan repairs to the highest possible standards.
Our wide range of repair services include but are not limited to:
Hail damage repairs
Chassis and suspension repairs
Diesel heater repairs
Interior damage repairs
Side damage repairs
Rocker roller suspension conversion
Other damage repairs and more
Customised Conversions
If you want your caravan to look a bit different, we can help. From building bespoke designs from scratch, to widening doors and fitting lifts, our team can offer highly customised conversions so that you end up with the idea you
had in your head. We can bring your ideas to life – modifying an existing caravan to suit your needs.
Air Conditioner and Microwave Oven Installation
Touring adventurers never travel without an air conditioner and a microwave oven, but not all caravans come equipped with them. Don't worry, you plan your trip and let us handle all the appliance requirements – from safe and quick
installation of air to long-lasting repair if required.
Roof top, split system or under bunk units, there are several types of air-conditioners to choose from. We will help you choose the right type of cooling and microwave oven unit and will also provide you with a highly effective
installation process.
Want to know more about our services? Contact us now