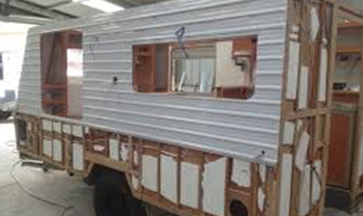 Body Recladding and Repairs to Damaged Vans and Campers
Do you want to refurbish the body of your caravan or looking for high quality repairs? We are here to help. Caravan Crash & Service provides highly effective body recladding and repairs to damaged vans and campers.
Highly Effective Body recladding
Frequent tours, harsh weather conditions and accidental damage can have a bad impact on the aesthetics and functionality of the cladding of your caravan.
Due to lower construction costs, aluminum is one of the most used cladding materials in caravan manufacture, but regular use and abuse can cause serious damage to the caravan's aluminum cladding.
This is where you need expert assistance and we are here to help. At Caravan Crash & Service, we provide high-quality body cladding or recladding services.
Our team of fully trained and licensed cladding repair experts uses the best techniques, materials and equipment to offer superior quality services.
They will first carry out an in-depth analysis of the condition of your caravan's cladding before coming up with the best repair strategy.
Repairs to damaged vans and campers
Our high-quality caravan damage repair service is designed to make your caravan look as good as new.
Your caravan can become damaged due to accident, hail, water, storm and in other ways. We know that this does happen and our highly skilled damage repair specialists are here to make the caravan repairing process as convenient
and hassle-free as possible.
Our services are competitively priced and our team can effectively repair a wide range of damage, which includes but not limited to:
Cladding
Checker Plate
Pop Top Sleeve
Awning
Lights
Interior
Wheel
Electric Brakes
Gas
240 /12 Volt Electrical
With a vast wealth of knowledge and expertise in Caravan damage repairs we always focus on the minute details to ensure that your caravan is brought back to its absolute best.
In case of queries, feel free to reach us directly by calling us on 0882615308