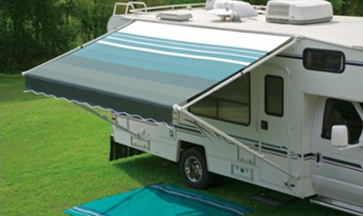 High-Quality Awning Repairs and Installation for Extra Living Space
Have you bought a new caravan and are looking for extra floor space? Caravan Crash & Service is here to make your road trip a memorable experience. Our highly experienced and certified professionals are equipped with the right
tools and equipment to service your caravanning needs. We are here to provide you with highly effective awning repairs and installation for extra living space.
Caravan awning installation for extra living space
No matter how large your caravan unit is, the floor space is always limited inside. The easiest way to increase your living space is to install an awning.
Are you looking for additional living space in your caravan? Then look no further. Our team at Caravan Crash & Service has a vast wealth of experience in designing and making caravan awnings.
We offer a wide variety of awning types from all the leading brands Dometic, Aussie Traveler, Fiama with many colours and materials to choose from. Based on the type of your caravan unit, we can help you in selecting the right awning for your caravan.
We will also assist you in selecting the vinyl, anti-flap rafters & annexe wall kits.
Awning repairs and alterations
Your caravan awning may need repairs or replacement due to various reasons. However, mostly the weathering is caused by harsh conditions – especially the scorching sunlight, which is detrimental to your caravan awning.
Whether there is an issue in the awning or in the frame, our highly experienced team can ensure that all the problems are rectified by providing you with a long-lasting repair or alteration service.
We first analyze and detect the root cause of the issue before repairing your caravan awnings.
Our awing repairs and alterations service include but are not limited to:
Awning Repairs: Damage repairs to walls, sail track, roofs, windows and skirts.
Awning Alterations: Both enlargements and reductions of all makes and models.
If you want us to repair your caravan awnings, just call us on 08 8261 5308.