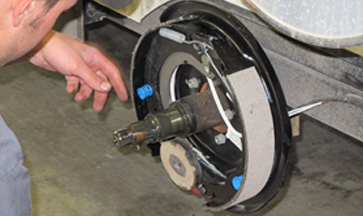 Caravan Wheel Alignment, Suspension, Brakes, Bearing and Axle Replacement
Ensuring your caravan is safe on the road is very important and that's where our team from Caravan Crash & Service can help. From wheel alignment to bearing and axle replacement, we do it all to make your ride smoother and safer.
Highly Effective Wheel alignment
If your caravan tyres are wearing unevenly or excessively and is not tracking well on the road. This happens when your wheels are out of alignment.
Caravan Crash & Service offers a comprehensive caravan wheel alignment service for most common caravan axles and suspension systems.
Our alignment services include and are not limited to:
Front and rear alignments
Camber and castor correction
Checking spring heights
Checking spring dimensions
Checking Suspensions
Checking Shocks
Tracking
Axle corrections
Checking brakes
Checking bushes
Checking lighting
Checking service brakes
Brakes, Bearing and Axle Replacement
When it comes to keeping your caravan running smoothly and safely on the road, your brakes, bearings and the axle plays a quintessential role.
Faulty or damaged wheel bearings and axles can cause extreme damage to your caravan and so it is extremely important to ensure that they are always in top condition.
Several signs of bearing and axle failure include:
Wobbling wheels
A burning smell
Smoke rising from the wheels when stopped
Wheel fire
Locked wheel (tire won't turn)
Noise
Overheated hubs
Overheated rims
A grinding noise while driving
At Caravan Crash & Service, our fully trained professionals are experts in diagnosing problems in your Caravan's brakes, bearing and axle. If you are facing the above mentioned problems, call our professionals, who can provide
you with a fast, reliable and cost-effective wheel bearing and axle replacement and repair service.
Want to know more about our services? Contact us now